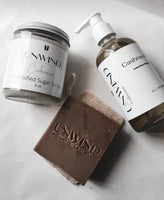 Self Care Products Made with Intention
Creatively Covered Co. LLC takes pride in creating items for your self care needs.
CEO and Maker Dawn McDowell started her journey with the intention to provide quality products for her family. Whether it is handcrafted cotton face coverings, journals for your writing therapy, our retail therapy section or our up and coming all natural/organic essential oil infused skin care to nourish her family's skin and yours, her focus is to always provide you and yours with quality all natural products.
*** Due to the nature of all butters, they may melt in high temperatures. Butters are whipped oils and when whipped a solid form is created and the volume of product increases. When butters melt the volume decreases. While we do our best to package them with cool packs they may melt during transit. We also have no way to determine if drivers keep them on the truck long. If this happens it may seem that you have less as whipping creates volume. Place in your refrigerator and whip if you'd like to gain back some of your volume.
Please make sure to read all product disclaimers on our site before purchasing as we do not offer refunds on any of our products due to the nature. Thank you for your support.
Welcome to our Covered Crew!
Dawn